Here's my first robot :)
It's based on "start here" design on letsmakerobots.com.

This is actually some of the simplest robots you can build: require little soldering and very little knowledge. Indeed, i had zero knowledge on electronics when i made this.
Part List
:
1x Picaxe 28x1, the "brain" of the robot
1x Motor driver (L293D or SN754410), which controls the two motors

2x GM9 gear motors
2x GMPW Wheels
1x Sharp GP2D120 sensor, it tells the distance from an object
1x Superbright LED (and the relative resistor)
2x Microswitch, similar to this one.
Various nuts&bolts, burnt CD, etc

It's held together with a solid structure based on nuts and bolts (as you can see from the pictures) and CD plates. A wooden cube is the main attachment for all parts. I like this design becouse it's completely disassemblable, nothing is permanently attached. Also, it's quite strong (well, for a small robots, anyway :P)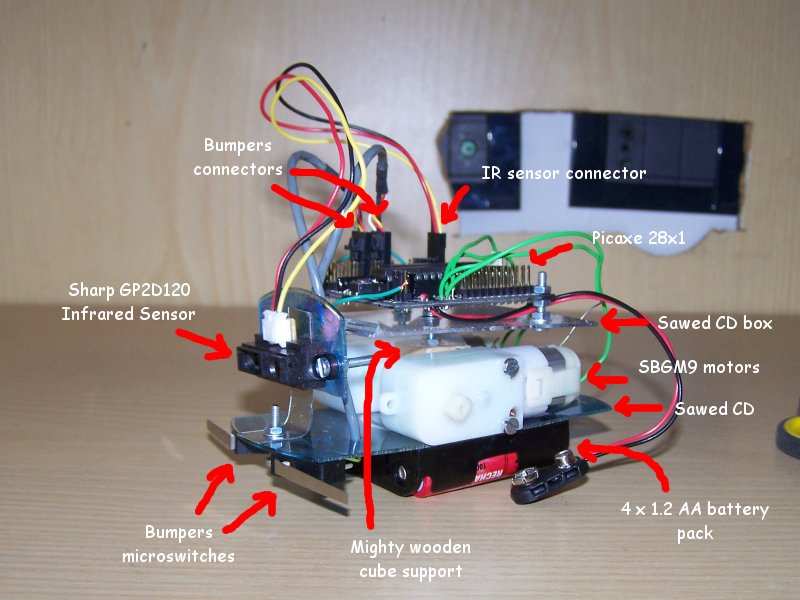 I also added a ultraluminous led, it make a very bright light cone, give great effect when the robot turns :) The led is mounted on the head near the IR sensor, along with it's resistor. It's actually connected to G and V, since i don't have a transistor lying around, so it's always on then the robot is on.